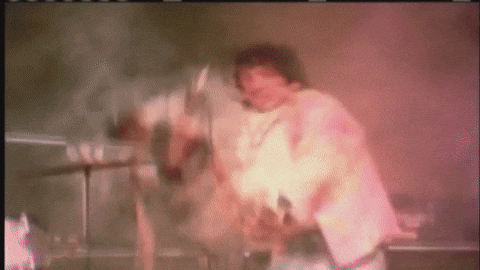 MUSICAL INSTRUMENTS: They will be used for their qualities as objects and as part of the set. Also, the need to act directly and profoundly upon the sensibility through the sense organs invites research, from the point of view of sound, into qualities and vibrations of sounds to which we are absolutely unaccustomed, qualities which contemporary musical instruments do not possess and which compel us to revive ancient and forgotten instruments or to create new ones. They also compel research, beyond the domain of music, into instruments and devices which, because they are made from special combinations or new alloys of metals, can achieve a new diapason of the octave and produce intolerable or ear-shattering sounds or noises.
SPECTACLE: The idea of total spectacle must be revived. The problem is to make space speak, to enrich and furnish it; like mines laid in the wall of flat rocks which suddenly give birth to geysers and bouquets.
CRUELTY: Without an element of cruelty at the foundation of every spectacle, the theater is not possible. In the state of degeneration, in which we live, it is through the skin that metaphysics will be made to enter our minds.
–Antonin Artaud, The Theater and Its Double